Chapter IP Opportunities
Chapter IP Opportunities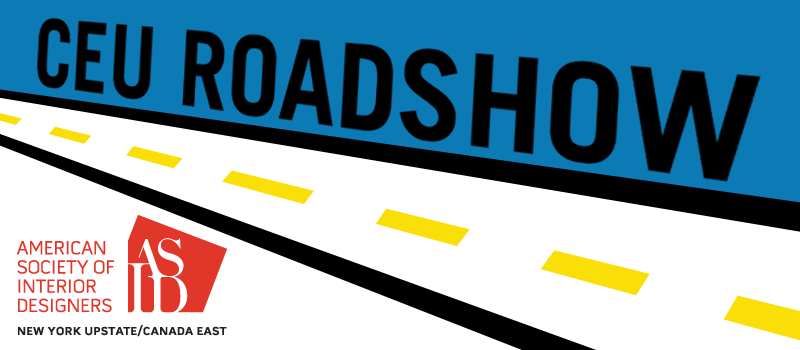 Once a month, ASID New York Upstate / Canada East presents a CEU Roadshow that travels throughout our Chapter's demographics to provide interesting and convenient presentations of Continuing Education Units to our members and the Interior Design Community. The CEU's are offered on a variety of topics and are delivered March through June and September through November at multiple locations to appeal to our memberships' varied demographics and accommodate our widespread geography.
If you are interested in becoming a Host, Presenter or both for a CEU, see more information and requirements below. Please contact Professionsl Development Board Member, Nicole Nahoe for questions and registration at professionaldevelopment@nyuce.asid.org
GENERAL INFORMATION
Each CEU will be presented in at least three towns or cities in the Chapter's demographics.
The presentation should be hosted on a weekday during early morning, lunch or early evening hours for the best attendance.
The CEU Topic is required to be approved by the Chapter.
All event costs associated with the presented CEU will be the responsibility of the Host and/or Presenter.
It is strongly encouraged that the Host and/or Presenter provide light food and drinks.
ASID will handle guest registration and communication to their 1000+ Members and Industry Related Partners through email, social media and web page.
Attendance is typically 10-12 people, but we are always aiming to increase our numbers!
HOST AND/OR PRESENTER
Events can be held at showrooms, local businesses, school campuses, etc…and should hold at least 10 people.
Host/Presenter will provide any technical support needed for the presentation and signage needed for the attendees to find the space.
Events with three or more locations throughout the Chapter are preferred, but not required.
Topics can include evidence based research design, product demonstrations, professional development, business practices and more.
IDCEC accredited courses are preferred.
Invitations and/or graphics should be prepared by the Host or Presenter and provided to ASID no later than 6 weeks prior to the first scheduled CEU. (Format to be JPEG, PDF or PNG; minimum 300 dpi; portrait layout is preferred)