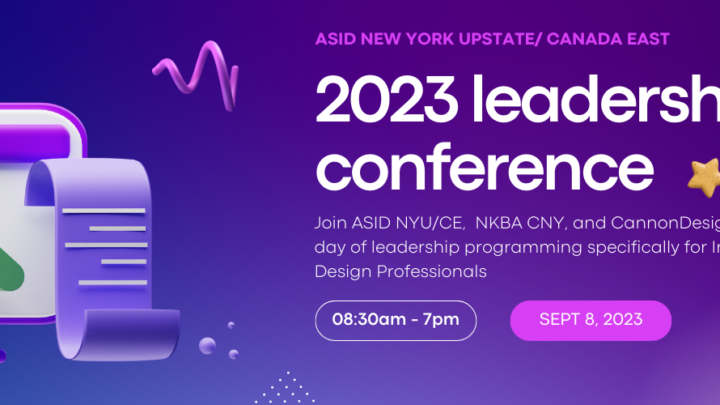 2023 Leadership Conference - Registration & Sponsor Opportunities
Description
Join ASID NYU/CE, and CANNONDESIGN as they host the 2023 Leadership Conference on Friday, September 8, 2023, at ConnonDesign Architects in Buffalo New York.
This event is limited to the first 100 people, so register now and reserve your spot for the
2023 Leadership Conference.
COST:

Full Day
ASID, BOMA, NKBA CNY Members: $50
Non-Members: $65
Students: $25
(student ticket does not include Happy Hour, you must be 21 years old to attend and have NYS proof to attend)
LUNCH ONLY:
ASID, BOMA, NKBA CNY Members: $25
Non-Members: $35

HAPPY HOUR ONLY:
ASID, BOMA, NKBA CNY Members: $25
Non-Members: $35
TENATIVE PROGRAM SCHEDULE:
8:30 AM - 9:00 AM Registration
9:30 AM - 10:45 AM Hiding in Plain Sight: How Glass Built Buffalo
10:45 AM - 11:00 AM Bio Break/Table Tops
11:00 AM - 12:00 PM Cannon Presentation
12:00 PM - 1:30 PM Lunch and Table Tops
1:30 PM - 2:45 PM Manage Your Money
2:45 PM - 3:30 PM Bio Break and Table Tops
3:30 PM - 4:30 PM Re-Imagining Residential Healthcare for the Future
4:30 PM - 5:00 PM The Power of ASID
5:00 PM - 6:00 PM Happy Hour at Flint

============================================================================
9:30 AM - 10:45 AM Hiding in Plain Sight: How Glass Built Buffalo

Megan McElfresh, Executive Director
Stained Glass Association of America (SGAA)
Megan McElfresh is a respected third-generation stained glass artisan with a background in nonprofit and operations management and art history. Combining her professional interest in the relationships between science, industry, and art in the glass ecosystem with a lifetime of community service, McElfresh is uniquely qualified to lead the National Trade Association. Her leadership comes at an exciting time as the organization celebrates 120 years of service to the industry and revitalizes its mission for the next generation.

Prior to working for the SGAA, McElfresh worked in a variety of roles from operations management at a life sciences firm in Washington, D.C. to IT & web support for small non-profit art organizations. She grew up in small stained glass studios and continued to build on her technical skills in the medium by seeking mentorship opportunities all the way through college. Some of the highlights of her glass studies include several trips to Pilchuck Glass School and time spent at the nationally recognized kilnforming resource center, Vitrum Studio. In her own architectural glass studio, McElf GlassWorks, she never turned down an opportunity to collaborate with neighborhood teens and local programs to provide enthusiastic and creative educational enrichment to those who might otherwise have never gotten such opportunities. Both her artwork as well as her community programs and research have been featured in the Stained Glass Quarterly, Design NY, The Buffalo News, and Buffalo Rising.

As Executive Director, McElfresh is dedicated to sowing the seeds of long-term change and expanding the SGAA's core programs so that they are sustainable for the challenges facing the next generation. Her focus on showcasing the Association as a hub for the industry through strong partnerships with manufacturers, preservation and stewardship groups, and education centers highlights her commitment to collaboration and innovation. By bringing together the nation's foremost architectural art glass studios in technical skill and integrity, the SGAA's cumulative knowledge can be leveraged to benefit all who are tasked with the stewardship, care, and renewal of our nation's living stained glass museum.

McElfresh's research interests are equally intense and impactful. Her ongoing work centers on how the built environment impacts community health and safety, with a particular focus on increasing access to stained glass and the trade skills in underprivileged communities. She also explores preservation efforts and their impact on community revitalization and economic development. McElfresh's dedication to understanding the broader impact of her work on the community is a testament to her commitment to social responsibility and underscores her importance as a thought leader in the industry. Her dedication to the community-focused mission of the SGAA is driving innovation and collaboration within the organization.

McElfresh's work underscores the importance of collaboration, innovation, and social responsibility in driving meaningful change and making a positive impact on the communities we serve. With McElfresh's leadership, the SGAA is embracing a bright future of growth and development. Inspired by her energy, the organization is enthusiastic about becoming a more welcoming force in the stained glass industry, forging a path to serve a new generation that can continue to bring diversity and innovation to this incredible material.
====================================================================================
11:00 AM - 12:00 PM Cannon Presentation


Suzanne Lefebvre, Interior Designer
CannonDesigns
Thoughtful interior design stems from an empathetic and holistic design approach. That's the core of Suzanne's work as our interior design discipline leader. She creates transformative spaces that emerge from evaluating the novel environments and people of each community and organization with which she works. Successful interior design is understanding the cause and effect each design decision can have on human experience and well-being.

Based in our Buffalo office, Suzanne enjoys leading her team in translating client brands, goals and visions into progressive and responsive spaces. Through her excellent visual awareness and spatial design skills, she is able to communicate ideas through technical drawing, graphic details and materials. For Suzanne, it's about listening, perseverance, patience and ultimately creating something holistically beautiful.

Some Clients and Collaborators:
Syracuse University
Children's Hospital of Philadelphia
Future-focused organizations

Expertise:
Color theory
Embracing all forms of design, from theatrical design to textile and graphic design
Planning and designing the interior space in relation to the exterior

Pursuits:
Teaching design at Rochester Institute of Technology
Shaping the first interior design curriculum for the National ACE Mentor Program Creating modern abstract and illustrative quiltsInfusing different passions and interests in her design solutions.
====================================================================================
1:30 AM - 2:45 PM Corepath Firm Financials
1.0 CEU ADA | IIDA

Kristen Moore, Director of Operations
CorePath Wealth Partners, LLC
As a business owner, you need to set business goals to both grow your design firm and support the life you want to live. In order to do that, it's essential to have a healthy business, one that runs smoothly and is profitable. In this workshop, gain a better understanding of cash flow, benchmarking and tracking trends, and discover how to build your team of trusted experts to become a more productive business owner.

====================================================================================
3:30 AM - 4:30 PM Re-Imagining Residential Healthcare for the Future

Corinn Soro, CID, CHID, NCIDQ, EDAC, SEGD
Corinn Soro, CID, CHID, NCIDQ, EDAC, SEGD, an Associate at Kideney Architects, is an experienced Senior Interior Designer with a specialized focus on healthcare. Her passion for Interior Design stems from her quest to create person-centered environments to support the whole person through the built environment. She is an advocate for the profession as an CIDQ Ambassador, through legislative efforts and has recently penned a children's book about an interior designer's responsibility to protect the health, safe and welfare of our communities. https://www.amazon.com/Fiona-Finer-Interior-Designer-Corinn/dp/1720664889/ref=sr_1_1?crid=9PXD81HCAA1A&keywords=fiona+finer+the+interior+designer&qid=1690396038&sprefix=%2Caps%2C247&sr=8-1
This session discusses issues, potential solutions, and review US and Canadian guidelines that embrace alternative care models, supportive environments, with global examples of improved quality of life for residents, staff, family, and community in inclusive environments. Corinn will present global case studies and promising programming, planning, and design examples that support evidence-based, person-centered design in residential care communities. Explore the evolving field of residential care, address concerns, present concepts that support positive change, and innovative future developments to enhance design and operations. Identify how interior design strategy enhances the implantation of best practices with supportive interior architecture.
====================================================================================
4:30 PM - 5:00 PM The Power of ASID

Nicole Land, President - Elect ASID New York Upstate/Canada East

Nicki Land ASID NYU/CE Presenident-Elect talks about her journey with ASID from joining ASID as a student to, to serving in mutiple Board positions and now starting her term as President of our Chapter in October.
Nicki will share insights and benefits to belonging to ASID and how to get the most of your membership and partnerships with the only professional association that represents both commerical and residential interior design professionals
====================================================================================

5:00 PM - 6:0 PM
Happy Hour at Flint Kitchen + Bar

Join fellow attendees at Flint Kitchen + Bar in the lobby of Fountain Plaza for a drink to wrap up the day.