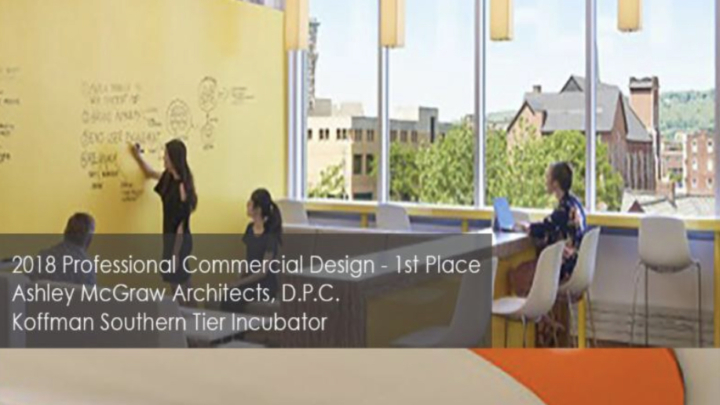 2019 Professional & Student Design Competitons
Description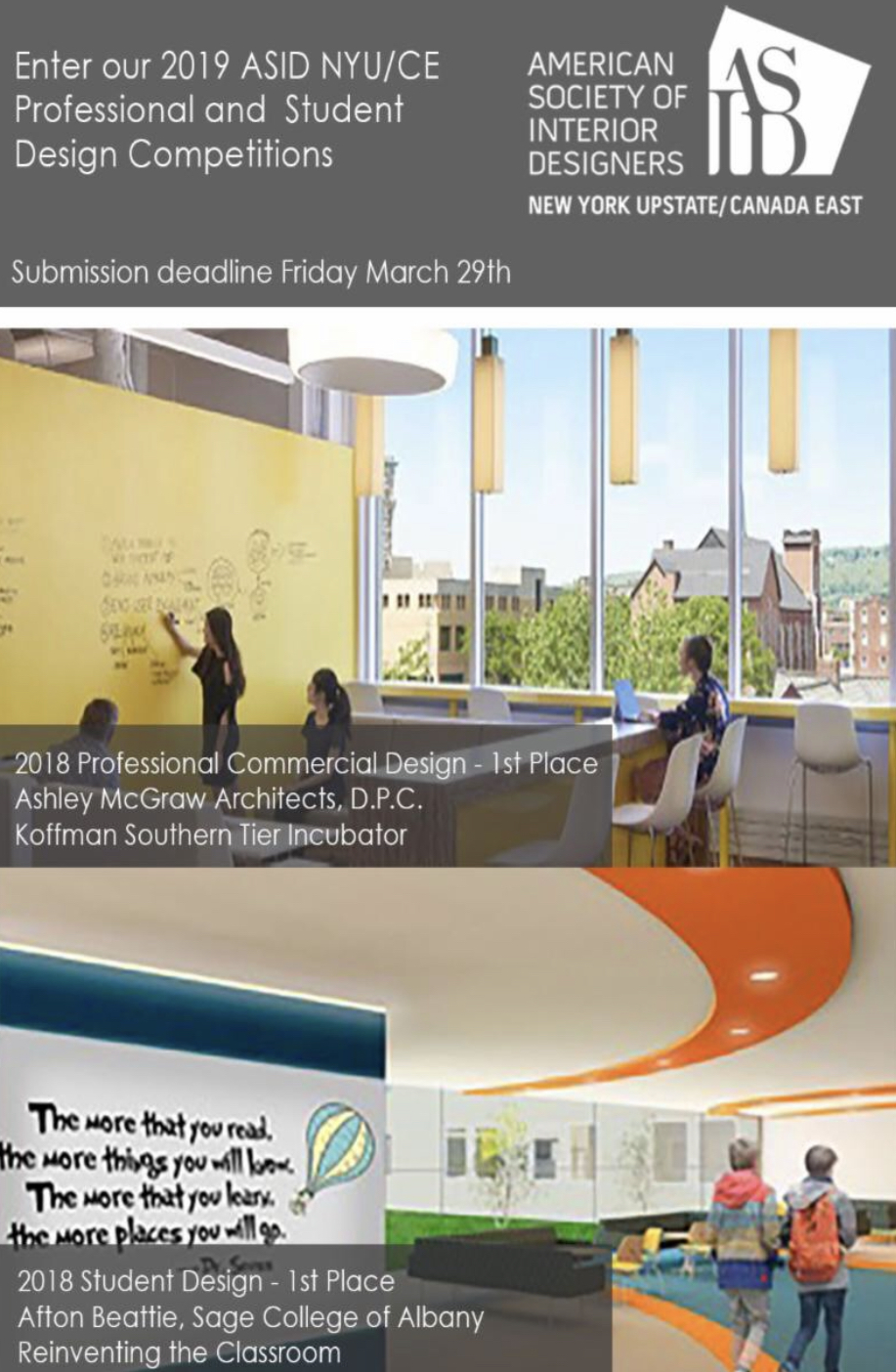 ENTRY REQUIREMENTS AND CRITERIA
CATEGORIES
Commercial Design
Large Scale: greater than 1,500 sq. ft.

Small Scale: less than 1,500 sq. ft.
Residential Design
Large Scale: greater than 1,000 sq. ft.

Small Scale: less than 1,000 sq. ft.
Outside the Box/Specialty Project: Out-of-the-ordinary; such as salon, bowling alley, trade show booth, etc…
Student
Freshman/Sophomore Level Design Students

Junior/Senior Level Design Students
CRITERIA
Students
Any student who is an ASID member in good standing and currently enrolled in an interior design university or college program with the NYU/CE Chapter region.

Project must be completed during your academic career and the submission should correspond to the award category in the year it was completed.

All entries must be the work of the entering student only. No team project entries will be accepted.
All entries
Entries are restricted to current ASID Professional, Allied, Associate, Student Members of the ASID NYU/CE Chapter in good standing.

You may enter as many projects as you wish in either category. Each project must be entered separately. Entry fees are charged per project submission.

Previously awarded projects may not be submitted and non-winning projects may be resubmitted.

Projects can be from any location but must have been completed with the past 2 years.
SUBMISSION
Submit a maximum of three (3) 11" x 17" presentation boards in a single PDF file in either landscape or portrait orientation; however orientation must be consistent for the entire project.

Project Statement: provide a brief description of your submission outlining the design intent, objectives, program requirements, design challenges and solutions provided in less than 250 words, typed in a 10 point easy to read font, shown directly on one presentation board.

All images submitted must be 300dpi resolution or higher.

Uploads must be 15 MB or less.

The project boards must include: plans, elevations, rendered perspectives and/or photographs (before photos can be included but are not required) or other media which complement the project statement.

Boards must include project statement and title of project.

Boards must exclude your name, company or school name. This information will be included during registration and will not be shared with the judges.
REGISTRATION & FEE
Professional: Entry fee is $80.00 for the first entry and $50.00 for each additional entry.

Students: Entry fee is $10.00 per project.

Each entry must be submitted separately.

After registration and payment you will receive an email that includes a Dropbox link to upload your presentation. A confirmation email will be sent upon receipt. Please contact Nicki Land if you do not receive confirmation of your submission, or if you are in need of assistance:Membership@nyuce.asid.org
DEADLINE
Questions regarding entry requirements, guidelines, judging, submissions, etc., must be emailed to Nicki Land Membership@nyuce.asid.org prior to Friday March 29th 2019. No questions will be answered verbally. Any questions submitted after this date may not be answered.

Completed entries and payment must be received by 11:55pm on Friday March 29th 2019.
JUDGING
The ASID NYU/CE Chapter Professional Design Competition Committee will appoint a jury with a minimum of three judges. Judges will be ASID members in good standing.

Entries are evaluated individually and awarded points. Judges' scores for each entry are totaled out of the four (4) 25-point sections listed below with an opportunity for extra credit. Totals from each judge are then averaged to determine the winner.

The judges reserve the right not to issue any award for any category where the entry does not exemplify design excellence in accordance with judging criteria. Scores 79 or below are not considered for award purposes.

Any entry that does not meet all competition rules and requirements will be automatically disqualified.

Judges reserve the right to combine categories with less than three (3) entries as they see fit.
ENTRY EVALUATION
Design Objectives (25 points): Clarity of project. Addresses project requirements and scope in concept statement.

Aesthetics (25 points): Overall visual success of the project using the principles and elements of design.

Functionality (25 points): Effective and appropriate use of materials, finishes, furnishings, lighting, space planning and detailing.

Design Creativity (25 points): Originality and creativity in problem solving, material use and attention to detail.

NEW! Extra Credit (5 points): ASID believes that design impacts lives to enhance the human experience. Describe in your project statement the design elements that successfully support this mission and how the power of design can positively affect the client, public, etc…
AWARDS
All awardees will receive one ticket to all events, including the awards reception, at FALL into DESIGN.
Student
Freshman/Sophomore Level: First Place ($150.00) and Second Place ($75.00)

Junior/Senior Level: First Place ($150.00) and Second Place ($75.00)
Professional: first, second and third place in all five categories
Commercial Large Scale: greater than 1,500 sq. ft.

Commercial Small Scale: less than 1,500 sq. ft.

Residential Large Scale: greater than 1,000 sq. ft.

Residential Small Scale: less than 1,000 sq. ft.

Outside the Box/Specialty Project
COMPETITION RESULTS & ANNOUNCEMENTS
Winners will be notified by the ASID NYU/CE Chapter Board no later than Wednesday April 18th 2019.

All entries will be recognized by our Chapter via social media, print newsletter, or other means.

It is not mandatory, but strongly advised, that the awardee attend the awards reception at FALL into DESIGN on Friday, September 20th, 2019 in Troy, New York.
FINE PRINT
ASID NYU/CE will assume no responsibility for electronically damaged entries or technical difficulties uploading.

By participating, entrants agree to allow ASID NYU/CE to display entries and images at Chapter functions, other selected public events and/or communications.

Entries will be disqualified without completed registration and payment.

There will be no refund for entrants who pay the entry fee, but do not submit their project by the deadline.

Any company/team member/collaborator who is not an ASID member cannot be named on the entry form and will not be considered for an award.